The VWBPE conferences are not just lectures, workshops and exhibits. They are also opportunities for networking, meeting other educators, broadening our horizons and – dare we say it – having FUN. Social activities at a conference add to the professional connections we make, whether in a virtual world or the physical world. The Virtual Worlds Best Practices in Education conference offers creative, fun events that take advantage of the unique affordances of a virtual world. Rather than balancing drinks while peering at people's chests to try to read their name badges, we can scout out profiles for connections while flying airships and parading as pirates!
Starting with the Grand Opening Ribbon Cutting Ceremony, we encourage you to explore the exhibits, hunt for treasure, dance to music, play games, admire student artwork, dance to more music, watch machinima and a virtual world play, and Dance the Night Away to still more music! A quick list of the social activities we've planned for you is below, with full details in the VWBPE calendar.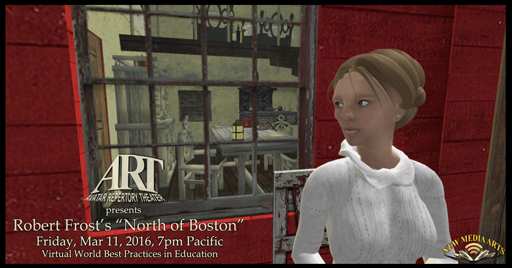 Wednesday, March 9, 2016
11:00 am: Ribbon Cutting Ceremony with piano music by Ari, and ice cream
11:00 am: Treasure Hunt begins
3:00 pm: Shiver Me Timbers Pirate Parade
3:30 pm: Jimmy Buffett Tribute Concert – Lightning Productions – One of SL's best tribute bands!
Thursday, March 10, 2016
5:00 am: Relax, Revive, Rejuvenate – Onboard the Horizon – Catch up with friends and get yourself organized aboard one of the biggest SL yachts able to sail the Blake Sea.
12:00 pm: Art Show and Dance Party on Meeting1 Island, AvaCon Grid
4:00 pm: Machinima Showcase on AvaCon Grid
4:00 pm: VSTE Game Night – Second Life
Friday, March 11, 2016
6:00 am: Relax, Revive, Rejuvenate – Onboard the Horizon
12 noon: Lightnin Lowtide at the Steampunk Coga – Performance of blues, classic rock, country, and Golden Oldies
4:00 pm: Machinima Showcase in SL
6:00 pm: Red Carpet Champagne Reception with live performer Bones Writer
7:00 pm: The Avatar Repertory Theater presents "NORTH OF BOSTON" – A dramatization of Robert Frost's 1915 modernist masterpiece
Saturday, March 12, 2016
7:00 am: Relax, Revive, Rejuvenate – Onboard The Horizon
7:00 am: Early Morning Rendezvous – Explore the VWBPE Social sim in SL by kayak, sailboat, or horse, or take a guided tour on a steampunk pirate balloon.
1:00 pm: Saturday Afternoon at Chilbo
5:00 pm: Keeba Tammas and The Tiny Maniacs – Live vocal music
6:00 pm: VWBPE16 Closing Ceremony & Thinkerer Award Winner Recognition
7:00 pm: David Bowie Tribute Concert
8:00 pm: Dancing the Night Away with DJ Coz