10th Annual Virtual Worlds Best Practices in Education
March 29 – April 1, 2017
2017 Theme : Legacy
The VWBPE Conference is a completely virtual conference that is conducted using simulated environments. Participants experience the conference through a virtual reality type setting including conference rooms, theatres, exposition halls, meeting spaces, and other types of venues similar to a brick and mortar type conference.
The conference is free to attend. The cost of the conference is covered by sponsorship and donations.
* Play * Explore * Engage * Immerse * Learn *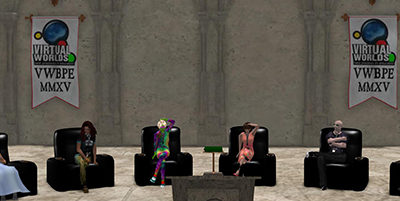 If you have been considering whether to submit a proposal for a presentation, exhibit or machinima, now is the time to decide - and get it in! The deadline, January 27th, is barely two weeks away. Be a part of the 10th anniversary of VWBPE! Join its legacy, advancing...
read more
Sign Up to Our Mailing List
Become a Blue Ribbon Community Sponsor!
To donate any amount in the $20-$499 USD range, click below.