All sessions of the VWBPE 2019 Conference are held in Second Life®. All times are in SLT (PST).
You may access this time zone converter for your local time: http://www.timeanddate.com/worldclock/converter.html.
Add these events to your personal calendar! To add all VWBPE conference events to your calendar, scroll down to the bottom of the calendar, find the "Subscribe" button and click on it. You will find options to add to your Google, Outlook or Apple calendar. To add individual events, click the event and find the "Subscribe" button on that page. You don't have to miss any events at VWBPE!
---
NOTE:
In most of the United States and most locations in Canada, Daylight Saving Time is in effect. Is your location affected? Check this page to find out when (and if) Daylight Saving Time begins for you.
---
Mar
4
Sun
2018
Get Scrooged Redux: Explore A Christmas Carol
Mar 4 @ 07:00 PM – 08:00 PM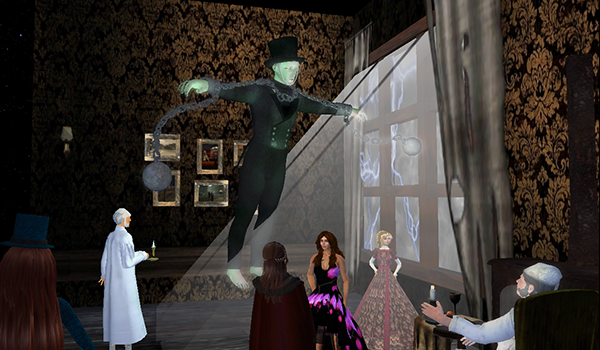 Host: Brant Knutzen / MrK Kas,  University of Hong Kong
Description: Meet in the Counting House as Scrooge introduces participants to Dicken's classic Victorian novella: A Christmas Carol! Additional dialogue has been added to some scenes, and a complete new scene has been added to complete the story with a happy ending. Participants will explore the snowy context of the ghost story through nine key scenes, and can click on the characters to hear what they are thinking in each situation.
Location:  http://maps.secondlife.com/secondlife/HKU%20Education%20Island/40/124/763
Access: See the conference website for information about creating a Second Life account (Attendees). Either SL or Firestorm viewers are recommended.
This venue will be available for individual exploration after the presentation. For more fun join optional the VWBPE Passport to the Metaverse 2018 Rezzly Quest: https://vwbpe.org/conference/passport-to-the-metaverse-2018
Mar
17
Sat
2018
Bridging Worlds: Learning in a Strange Land
Mar 17 @ 03:00 PM – 04:00 PM
Presenters:
Cynthia Calongne/Lyr Lobo (Avatar)
Educators and Trainers
Bradley Hodgins/Zalomar Resident
Educators and Trainers
Learning in 3D comes alive through the mind of eight-year-old Jack. Join us as we explore the creation of Jack's World, a Jurassic simulation that runs on OpenSimulator at Virtual Harmony. Virtual Harmony is a participatory design, community, and classroom space, hosting a collection of games, simulations, contemplative spaces, and immersive experiences that span research, education, social good and values-based leadership.
Participants will discover student perspectives on the benefits and challenges of studying and holding classes across different virtual worlds.
Participants will explore the student projects, the technology challenges, and how the students took their ideas and modeled them in OpenSim, an open source virtual world.
Track: Collaboration and Distance Connections
Format: Spotlight Presentation
Accessibility: Voice & SpeakEasy HUD Tool