All sessions of the VWBPE 2019 Conference are held in Second Life®. All times are in SLT (PST).
You may access this time zone converter for your local time: http://www.timeanddate.com/worldclock/converter.html.
Add these events to your personal calendar! To add all VWBPE conference events to your calendar, scroll down to the bottom of the calendar, find the "Subscribe" button and click on it. You will find options to add to your Google, Outlook or Apple calendar. To add individual events, click the event and find the "Subscribe" button on that page. You don't have to miss any events at VWBPE!
---
NOTE:
In most of the United States and most locations in Canada, Daylight Saving Time is in effect. Is your location affected? Check this page to find out when (and if) Daylight Saving Time begins for you.
---
Apr
3
Tue
2018
Easter Ethnography: Noblegarden Exploration in WoW
Apr 3 @ 08:00 PM – 10:00 PM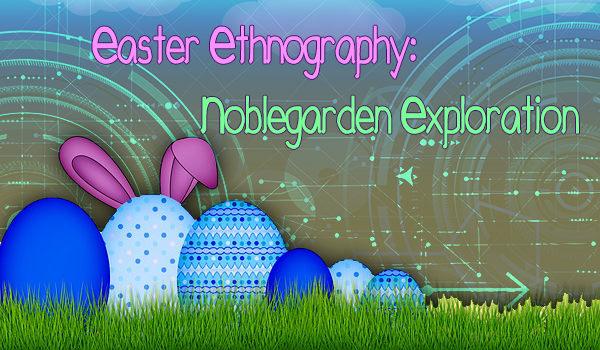 Hosts: Chris Luchs / Terrior; Cynthia Calongne / Lyr; Kae Novak / Cytie. ISTE Games and Simulations Network
Description: Join us for ethnographic exploration of the Noblegarden Event in World of Warcraft. Participants will select their participant role: complete participant, complete observer, participant-as-observer, and observer-as-participant and collaborate with others to document the culture, interactions, and themes from the experience. Once all data is collected, the group will discuss themes, patterns and categories of interactions and discuss future research opportunities in games. You need to RSVP to attend this event – See ACCESS information.
Location: World of Warcraft. See ACCESS information below.
Access: You can find the minimum and recommended system requirements for World of Warcraft at https://us.battle.net/support/en/article/76459 Typically, if you can run Second Life, you will be able to run World of Warcraft.

1. No existing WoW account using Trial Account: Two to three days before the event, go to https://worldofwarcraft.com/en-us/start and make an account. Once you have your account, download the trial and allow it to update. It will take a bit to download so make sure you allow time and space for a large download (about 30 GB). Once the game is downloaded, log in and create a Horde character on Area-52 server. RSVP: Email abacuscapalini@gmail.com your character's name at least 24 hours before the event.
2. Existing WoW account: Email abacuscapalini@gmail.com  to set up Battletag sharing to allow for cross-realming. Please email your Battletag at least 24 hours before the event to RSVP.
Discord information will be shared with those who RSVP by emailing abacuscapalini@gmail.com
This venue is a seasonal event within WoW.
For more fun join optional the VWBPE Passport to the Metaverse 2018 Rezzly Quest: https://vwbpe.org/conference/passport-to-the-metaverse-2018