All sessions of the VWBPE 2020 Conference are held in Second Life®. All times are in SLT (PST).
You may access this time zone converter for your local time: http://www.timeanddate.com/worldclock/converter.html.
Add these events to your personal calendar! To add all VWBPE conference events to your calendar, scroll down to the bottom of the calendar, find the "Subscribe" button and click on it. You will find options to add to your Google, Outlook or Apple calendar. To add individual events, click the event and find the "Subscribe" button on that page. You don't have to miss any events at VWBPE!
---
NOTE:
In most of the United States, Daylight Saving Time is in effect as of 8 March 2020. Canada does not observe DST in 2020. Is your location affected? Check this page to find out when (and if) Daylight Saving Time begins for you.
---
Mar
14
Wed
2018
Volunteers Rock Kickoff
Mar 14 @ 06:00 PM – 07:00 PM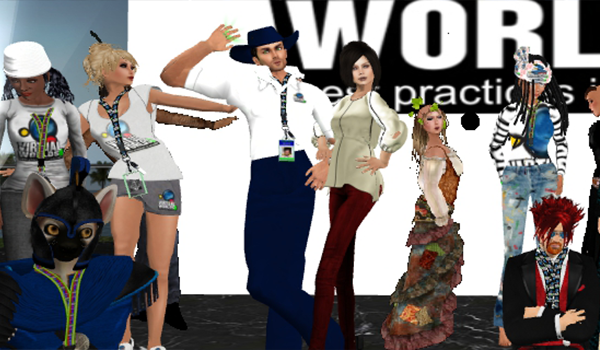 Volunteers, come join us to make sure you have what you need, get a picture taken of the group and dance to get us started for our next wonderful VWBPE Conference.
This is the time we bring together the volunteers of VWBPE who have helped contribute to the success of the conference for the past 11 years. Volunteers ROCK!
Mar
17
Sat
2018
Etopian Evolution for Real World Solutions
Mar 17 @ 12:00 PM – 01:00 PM
Presenter:
G Ronnie Kraegel/Namaara MacMoragh (Avatar)
Advocacy and NonProfit
As an ever evolving project, Etopia is designed to bridge SL and RL by providing safe, educational space and activities for skills exploration with partners such as Peninsula College and Brain Energy Support Team. The benefits of learning social, sustainable, and behavioral skills in a virtual world give participants the opportunity to create a better quality of life for themselves and the communities they are in.
Participants will learn how Etopia has integrated real life solutions into the Second Life experience.
Participants will learn how a mutually supportive community experience can address real world environmental and social challenges.
Format: Spotlight Presentation
Track: Creativity and Innovation in Design, Practice, and Learning
Accessibility: Voice & SpeakEasy HUD Tool
Waiting for the VR Evolution
Mar 17 @ 04:00 PM – 05:00 PM
Facilitator: Paul Rudman/PD Alchemi (Avatar)
Assistant: Zia Rivera-Clarkson/Amari DiRicchezi (Avatar)
Meet us at our quadrivium where we hope to entice you into a discussion on the VR Evolution. For many who have embraced change and have been early adopters, waiting for the rest of the world to catch up has not been easy. Join us for a discussion on surviving until the change happens and catches up to everyone else. Bring your ideas and join us for an engaging quadrivium discussion.
Track: VRevolution
Format: Networking Quadrivium
Accessibility: Voice & Transcriptionist
Apr
3
Wed
2019
Volunteers ROCK Kick-off
Apr 3 @ 05:00 PM – 06:00 PM
All Volunteers, please join us at our VWBPE Volunteer's ROCK kick off. Bluebarker Lowtide is our DJ and photographer. This is for our Volunteer picture, and will be to make sure you have what you need, answer any questions, share last minute news and just have some fun. Hope you can join us!!
We will party TWICE, at 3:00pm SLT and then at 5:00pm SLT.
Location: Show Office