All sessions of the VWBPE 2018 Conference are held in Second Life®. All times are in SLT (PST).
You may access this time zone converter for your local time: http://www.timeanddate.com/worldclock/converter.html.
Add these events to your personal calendar! To add all VWBPE conference events to your calendar, scroll down to the bottom of the calendar, find the "Subscribe" button and click on it. You will find options to add to your Google, Outlook or Apple calendar. To add individual events, click the event and find the "Subscribe" button on that page. You don't have to miss any events at VWBPE!
---
NOTE:
In most of the United States and most locations in Canada, Daylight Saving Time goes into effect on Sunday, 11 March 2018, the weekend before the VWBPE conference. Is your location affected? Check this page to find out when (and if) Daylight Saving Time begins for you.
---
Mar
11
Sun
2018
Venice in 1600
Mar 11 @ 07:00 PM – 08:00 PM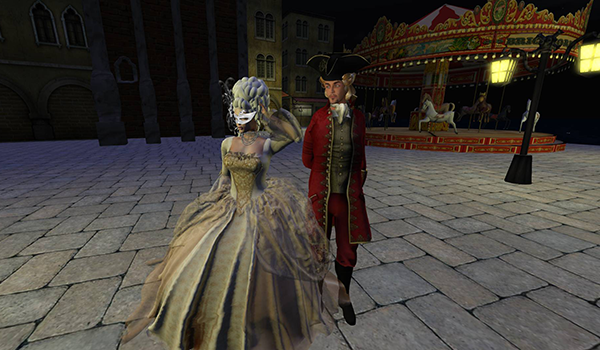 Host: Brant Knutzen / MrK Kas, University of Hong Kong
Description: Based on findings from The Quest, this immersive experience introduces participants to the impact that an idealized virtual identity and the perception of a social constructivist environment have on learning within the virtual world. Gamified learning as a group process will be explored, and data collected on affective issues such as beliefs and attitude towards: the self, the technology, the learning experience, and self-efficacy. This project seeks to develop a methodology for focusing a survey on specific behaviors using the virtual world through tight integration with simulated situations. Participants will be able to experience first-hand the integration of virtual world behaviors (Second Life) and a learning management system (Moodle), designed to eliminate the coding required for HUD interaction and make survey data collection much more tightly focused on specific behaviors. This presentation will be a beta test of this new methodology.
1) Pirate Battle Ship game, designed to examine the social dynamics of operating as a team, and rewarding collaborative effort, and the use of camera controls
2) Assassinate the Duke: a social subterfuge examining the role of identity and self-construal in the virtual world, and rewarding the use of collaboration, communication, and deceit!
Location: SLURL will be available in the Participative Learning Moodle course 1 hour before the presentation.
Access: See the conference website for information about creating a Second Life account (Attendees). Either SL or Firestorm viewers are recommended.
1. Before the presentation, participants should create a new user account on the ParticipativeLearning.org website (http://participativelearning.org/enrol/index.php?id=9), and verify their email address to login to the Moodle course. Use the enrollment key: VWBPE
2. At presentation time, participants should login to their Second Life account and use the SLURL provided in the Participative Learning course to teleport to the Venice in 1600 build on Lingnan Drama Island.
3. Please listen to your tour guide. Remember: Gondolas are not bumper cars.
This venue will be available for individual exploration after the presentation.
For more fun join optional the VWBPE Passport to the Metaverse 2018 Rezzly Quest: https://vwbpe.org/conference/passport-to-the-metaverse-2018
Mar
15
Thu
2018
The Minecraft VRevolution: Collaborative Learning
Mar 15 @ 10:30 AM – 11:30 AM
Presenters:
Katherine Hewett/TwelfthNight (Avatar)
Educators and Trainers
Mary O'Brien/Serena Offcourse
Educators and Trainers
Beth S. O'Connell/Beth Ghostraven
Educators and Trainers
Kim Harrison/Thunder Insippo
Educators and Trainers
The session features an panel of educators actively utilizing Minecraft in educational settings. Participants will explore how Minecraft can be utilized as a tool to motivate and engage young 21st century learners. Diverse examples of integration will be presented for participant consideration. The panel will discuss creative and innovative ways to integrate Minecraft and tips on how to provide opportunities for students to collaborate, create, and problem solve in meaningful ways.
Participants will be able to engage students in learning practices utilizing Minecraft for instructional use.
Participants will be able to apply strategies for implementing and integrating Minecraft into educational settings.
Track: Collaboration and Distance Connections
Format: This is a Compass Points round table discussion, where the discussants will address the following four points on the compass:
• Excited: Participants will be able to explore the benefits of video game integration in various educational settings and learn how Minecraft can engage 21st century learners.
• Worrisome: Participants will be able to explore the technical and online safety challenges educators face when integrating Minecraft in educational spaces.
• Need to know: Participants will be able to explore what 21st century skills and behaviors students exhibit when playing and building in Minecraft.
• Stance: Participants will be able to apply current strategies for integrating Minecraft in educational settings.
Accessibility: Voice, SpeakEasy HUD Tool & Transcriptionist
Mar
16
Fri
2018
Innovative Virtual Libraries: Research & Design
Mar 16 @ 01:00 PM – 02:00 PM
Presenters:
Valerie Hill/Valibrarian Gregg (Avatar)
Educators and Trainers
Robin White-Sieber/Sparkybear Mandelbrot
Artists, Designers and Builders
Virtual world librarianship requires innovative design to help educators and learners connect and find authentic and accurate information. Librarians and an Artist/Designer share examples of collaborative team design to build a virtual world library with plans to expand to web-based worlds allowing easy access for all. The move and design of the Community Virtual Library, the process of creating the Dickens Project Resource Center and Digital Citizenship Museum in Kitely will be featured.
Participants will be given specific examples of collaboration in virtual world design to illustrate the processes that support sharing expertise and talent as a team to achieve the organization's mission.
Participants will have the opportunity to view collaborative virtual world design through examples of real librarianship with access for all types of learners.
Track: Creativity and Innovation in Design, Practice, and Learning
Format: Spotlight Presentation
Accessibility: Voice & SpeakEasy HUD Tool
Virtual Worlds Database: Crowd-Sourcing Our Worlds
Mar 16 @ 04:00 PM – 04:30 PM
Presenter:
Alyse Dunavant-Jones/AlyseDunavantJones (Avatar)
Libraries
CVL's Virtual Worlds Database educates and connects virtual world users and communities regardless of their virtual "home" worlds. It is the first online database striving to include all virtual worlds. It creates connections between virtual worlds and the Web that must exist before the Metaverse can become reality. CVL is also using the database's collections to establish best practices for collecting and organizing virtual world information and to contribute to virtual world documentation.
Participants will review the database's collections of communities, landmarks, and resources.
Participants will be able to access, contribute to, and volunteer to assist with the database.
Track: VWBPE Redux
Format: Spotlight Presentation
Accessibility: Voice & SpeakEasy HUD Tool