When:
March 25, 2018 @ 07:00 PM – 08:00 PM
America/Los Angeles Timezone
2018-03-25T19:00:00-07:00
2018-03-25T20:00:00-07:00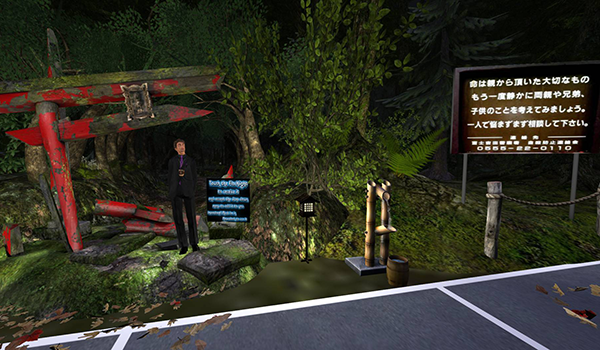 Host: Brant Knutzen / MrK Kas, University of Hong Kong
Description: This adventure exploring the Yurei Forest will provide experiential learning about the potential emotional arousal inherent in certain situations, and the variation in valence that different people assign to them. We will explore how perspective and our ancient fears of the dark forest can still trigger primal emotions, even in a safe space like a virtual simulation. Note: this simulation is not for the faint of heart! If you are easily offended, have serious phobias or a heart condition, this immersive experience is not for you. If you enjoyed the Blair Witch Project, we hope you will enjoy this exploration of the dark side of the human psyche.
Please listen to your tour guide, and try to muffle your screams of despair, cuz if you make any noise, more will come
Location: Yurei Forest, Lingnan Drama Island – http://maps.secondlife.com/secondlife/Lingnan%20Drama%20Island/99/45/3644
Access: See the conference website for information about creating a Second Life account. Either SL or Firestorm viewers are recommended.
After this session the Yurei forest simulation will return to the quiet place for reflection it was intended to be, where wandering in the vast quiet of nature is a peaceful experience.
For more fun join optional the VWBPE Passport to the Metaverse 2018 Rezzly Quest: https://vwbpe.org/conference/passport-to-the-metaverse-2018