Send Your Proposal to VWBPE TODAY!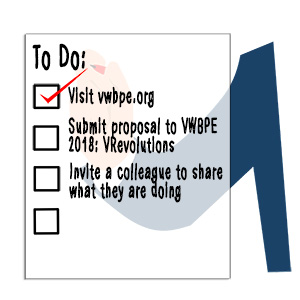 In the northern hemisphere, the days are getting shorter and colder as we move closer to the Winter Solstice. The hustle and bustle of the holidays is in full swing, the year is coming to an end. What are your plans for the holidays? What's on your 'to do' list?
Remember to include submitting your presentation proposal for VWBPE 2018. The Call for Proposals closes in just over 1 month – 08 January 2018.
The 2018 theme is VRevolutions. What intrigues you about new tech trends and how you are using these to support learning, wherever and however it happens? We want to know! The classroom is no longer solely the domain of education – and teaching is not only about teachers. Where is learning happening in your world? How are you pushing the boundaries of this Virtual Revolution?
Note: For this year's presentations, a presentation in any format may be submitted without a paper. If you chose to submit a paper with your proposal, it will be peer-reviewed before being published in the VWBPE Conference Proceedings in the Journal of Virtual Studies.
Do yourself a favor: Take a look at the submission form now. It's a good idea to prepare your replies in a separate document. You will also need to have your paper to upload, if you will submit one. When you are ready, you will fill in the entire form and submit it at that time.
Important Dates in 2018:
| | |
| --- | --- |
| January 08: | Presentation proposals DUE |
| January 08: | Immersive Experiences proposals DUE |
| January 11: | Fundraising Social |
| February 01: | Exhibit proposals DUE |
One Final Reminder – SAVE THE DATE!
The first VWBPE 2018 fundraising social is January 11. We hope to see you there! Details coming in early January.